I found myself getting angry as I put together my last piece, occasionally slipping into rant form; it was supposed to be about Lisa C, but it was SO hard to stay on topic, because there was so much territory to cover.
How I feel and how she feels about the USOC are not necessarily the same.
So, this is how *I* feel about the USOC.
****************************************************************************
Who is in the USOC's back pocket?
Meanie Rivera...looking like he's up to No Good.
Come on, we all know it was the *previous* council - and in particular former Mayor Lionel Rivera - who helped foist the USOC burden upon the city of Colorado Springs...and that *he* assisted in slathering us taxpayers with all that Olympic monkeyshine.
ANYONE WHO IS A NATIVE OF COLORADO SPRINGS AND WAS AT LEAST A TEENAGER IN THE 1980's SHOULD ABSOLUTELY KNOW BEYOND THE SHADOW OF A DOUBT THAT THE USOC IS THE ULTIMATE BOONDOGGLE.
SHOULD YOU DOUBT THE VERACITY OF MY STATEMENT, I URGE YOU TO REVIEW MY BLOG FOR PREVIOUS POSTS ON THE USOC...AND KEEP CHECKING MY BLOG FOR NEW POSTS ABOUT THE USOC...BECAUSE THERE ARE AND WILL BE PLENTY.
"Olympic" signage: yet another continuously irksome USOC pattern.
When talk about USOC signage was first mentioned, it was meant to coincide with the US Open Golf tournament. Some on council were of this mindset: "Why not? We have already paid through the nose to keep the USOC here - when will we begin to aggressively promote and advertise that association and make an asset out of it?"
Traveling eastward on Colorado Avenue, you might catch sight of a couple of signs; then again, you might drive right past them. Not only were they erected well after the US Open, but you'd have to have the vision of Superman in order to read them from the road...
And though I'm sketchy on the details, it is my understanding that WE the City of Colorado Springs paid $6,000 for those stupid tiny signs, and somehow, WE DON'T OWN THEM. NO DOUBT THIS HAS SOMETHING TO DO WITH THE USOC EXCLUSIVE USE OF THE OLYMPIC "BRAND" - MORE ON THAT IN A MOMENT.
When the $30,000 USOC rooftop mural was initially proposed, council was told it would involve the application of a decal that would cost $7,000. There were some who thought: " Great! This will put a former Olympian/local artist to work...earning him some money and renown...and at the same time, advertise that our city is the "Home of the USOC".
Well, we all know how the rooftop mural turned out - *badly*.
At first everyone was onboard with the rooftop mural except the sage Angela Dougan...crowing about what a great thing it all was, and making Dougan out to be a spoil-sport. But when the project turned from sugar to shit, those same cheerleaders split and run...pointing at Lisa like it was all her idea.
Sorry, but I see a pattern here.
AM I THE ONLY ONE WHO FINDS THE SUDDEN SALE OF THE BROADMOOR TOO MUCH OF A QUICK COINCIDENCE? YEAH, RIGHT...ANSCHUTZ LOVED THE BROADMOOR SINCE HE WAS IN KNICKERS...WELL, CAN ANYONE EXPLAIN TO ME ANSCHUTZ'S INVOLVEMENT WITH US CYCLING? JUST WONDERING!!!
If you came to Colorado Springs within the past decade, then you are a relative newcomer to the city,
and would have no reason to think a simple thing like signage could or would become so absurd?
But those who have been here for a good long while already know that we have NO EXCUSE FOR TRUSTING THE USOC ABOUT ANYTHING!!!
Really, at this point we'd be far wiser to simply presume that ANYTHING associated with the USOC will be both HELLA EXPENSIVE and NOT WORTH THE MONEY.
I know that if I were sitting on council, I'd automatically vote against anything or anyone even *remotely* associated with the USOC.
THAT WOULD INCLUDE MITT ROMNEY, WHO HAD A ROLE IN THE SALT LAKE CITY OLYMPIC BRIBERY SCANDAL; YES, I AM SAYING THAT BETWEEN ROMNEY'S MORMONISM AND ROMNEY'S USOC INVOLVEMENT...THE MORMONISM IS THE FAR LESSER OF THE TWO CONCERNS.
My rage at the rooftop mural machine is the ONLY THING that caused me to even look twice at the USOC - THOSE SELFISH BASTARDS...IF ONLY THEY HADN'T INSISTED ON THE MURAL, SPYDRA WOULD STILL BE WHOLLY UNAWARE OF THE TRUE NATURE OF THEIR
I really hate being the bearer of such bad, sad news...but we need to face facts sooner than later, friends: belief in anything Olympic is akin to believing in Santa Claus and the Tooth Fairy!!!!
Wow, Spydra...what soured - no - what smashed your own Olympic spirit?
Well, it can be reduced to three simple truths that I uncovered during the course of my research:
(1)
Frank Aries - the asshole real estate wheeler-dealer who originally convinced the city of Colorado Springs to annex Banning Lewis Ranch and agree to provide water - was a top USOC executive...as well as a retired Air Force Officer!
• Frank Aires: USOC Games Logistics Manager. Named USOC Director of Contracting and Purchasing in 1981; managed communications and equipment requirements for all National/Olympic Sports Festivals and Olympic, Paralympic and Pan American Games. Former intelligence systems consultant supporting the North American Aerospace Command following 28 years of service with the U.S. Air Force in various flying, operations and intelligence positions.
(2) After
all
their pissing and moaning about needing new buildings to house this and that for the USOC, it came as quite an unpleasant shock to learn of the rarely-mentioned USOC building at 4615 Foreign Trade Zone Boulevard that's up for sale...out on Banning Lewis Ranch...
FOR $8 MILLION DOLLARS;

I found this to be especially egregious, considering their other presence within the America the Beautiful Park Eye of Horus geoglyph.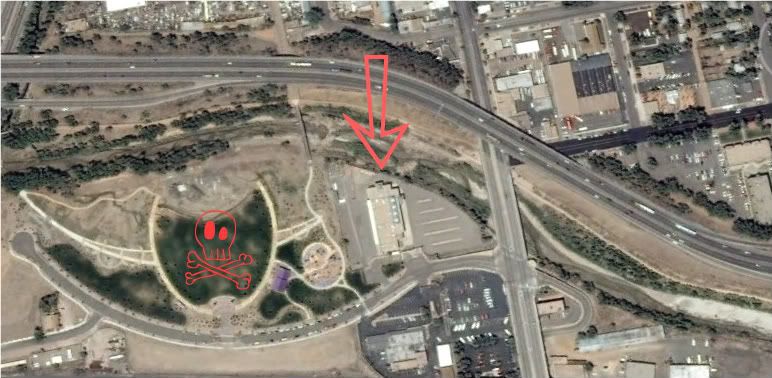 (3) I truly thought I might suffer a heart attack when I learned that Bill Hybl founded the USOC; remember, he is also the Chief in Charge at the El Pomar Foundation...you know, that philanthropic group who so *generously* provided "matching grants" to lower all of the money the people of the city of Colorado Springs were on the hook to give to the....that's right...THE USOC!!!!
El Pomar stepped in to save USOC deal
By WAYNE HEILMAN and DANIEL CHACON
McCLATCHY-TRIBUNE | Posted: Monday, March 1, 2010 12:00 am
COLORADO SPRINGS

— Two weeks before a critical fundraising deadline last year in the city's deal with the U.S. Olympic Committee, Mayor Lionel Rivera had raised just a fraction of the $3 million needed.
So he, again, turned to the El Pomar Foundation.
And it agreed to ante up the full $3 million to meet a Nov. 18 deadline and prevent the complex agreement from unraveling a second time, El Pomar CEO Bill Hybl said Friday.
''We stepped in because they were woefully short of the fundraising goal,'' Hybl said, recounting how and why the grant was made. ''He approached us to be helpful. I think we surprised him by giving the whole amount to make sure the deal didn't fail.''
The foundation's nine-member board of trustees unanimously agreed to the grant. ''We moved very quickly because we didn't want to see this go back to the drawing board and have to be renegotiated again,'' Hybl said.
El Pomar and Hybl were obvious targets for Rivera's efforts to salvage the deal and he said last week that he never stopped asking for their help.
''That was all part of the fundraising,'' Rivera said. ''I committed to raise the money for the USOC and that's what I did, whether it was speaking to El Pomar or anyone else on the donor list.''
The Colorado Springs-based El Pomar had earlier kicked in $2 million for other parts of city's deal to keep the USOC headquarters from leaving town. Hybl, its chief, is President Emeritus of USOC, having served two terms as president, and revered in the Olympic world as one of its strongest supporters. Together, El Pomar and Hybl are well-known for their support of major civic projects such as the building of the Colorado Springs World Arena.
Hybl, who had just returned from a six-day trip to Vancouver to watch the Winter Olympics, which conclude Sunday, was upbeat about U.S. athletes, the U.S. Olympic leadership and what he said are the soon-to-materialize economic benefits of having the USOC headquarters in downtown Colorado Springs.
The headquarters are scheduled to move downtown from the Olympic Training Center at Boulder Street and Union Boulevard in mid-April.
The move will start paying economic dividends immediately by bringing more people to downtown to shop, eat and work; attracting USOC sponsors, Olympic sports organizations and others to downtown hotels and restaurants for meetings; and helping improve air service by boosting business travel, he said.
''People will be coming (to the headquarters) for business. This is a business that is downtown. This isn't just national business, this is international business,'' Hybl said. ''This community doesn't have a financial sector with insurance companies headquartered here, but we do have the U.S. Olympic Committee's headquarters.''
He noted that the second El Pomar grant came with more strings attached. When it made its first grant the foundation had no role in negotiating with the city, Olympic Committee or project developer, LandCo Equity Partners, Hybl said.
But the foundation insisted that it be able to monitor the spending of its grant: ''We are at the table now that we have this much money involved,'' he said.
The $3 million El Pomar donated in November was added to a $500,000 state grant and $9.5 million in proceeds from the sale of $31.47 million in certificates of participation, a form of municipal debt that doesn't require voter approval. That $13 million plus another $3 million due Sept. 18, 2011, will pay for improvements to the Olympic Training Center, including new housing units, an upgraded cafeteria for athletes, a renovated visitors center and a new entrance.
Hybl also is co-chair of a committee along with Phil Lane, whose family sold a local Pepsi distributorship in 2008, and Nechie Hall, CEO of a local public relations and advertising agency, that is trying to raise the second $3 million to meet the 2011 deadline. He said the three co-chairs are scheduled to meet in May to come up with strategies to raise the bulk of the funds from major donors before seeking contributions from the public.
Do you folks understand that Banning Lewis Ranch is the primary reason and customer of the Southern Delivery Water System, and how much higher all our water rates will be solely because of it?
LISTEN FOLKS -
HEAR
ME
: IF THERE'S ONE THING ABOUT WHICH WE CAN ALL BE ABSOLUTELY SURE, IT'S THAT BILL HYBL ENJOYS BEING THE SECOND MOST POWERFUL MAN IN THE CITY; HE IS
NOT
MOVING AWAY FROM COLORADO SPRINGS, COLORADO. AS SUCH, ALL OF THE BULLSHIT THREATS ABOUT LEAVING THE SPRINGS IF WE DIDN'T GIVE THEM WHAT THEY WANTED AND NEEDED WAS JUST THAT: BULLSHIT!!!!
WELL, THIS IS FOR ALL THE GLBT PEOPLE WHO, BECAUSE OF ALL THE HOT, SEXY, TIGHT BODIES SWEATING AND RUNNING AND JUMPING ABOUT, THINK THEY'RE IN FAVOR OF THE OLYMPICS:
You've heard of the "Special Olympics", right? Well, dontcha think that by now, there would be the GAY OLYMPICS??? OF COURSE THERE WOULD BE - EVERYTHING IS GAY TODAY;
BUT THERE ISN'T...AND THE REASON WHY IS BECAUSE THAT EVENT'S ORGANIZER WAS SUED BY THE USOC TO CEASE AND DESIST IN NAMING THAT EVENT THUSLY....FORCING HIM TO RENAME IT "THE GAY GAMES."
A more recent repeat of that situation occurred earlier this summer...when some funny-minded folk thought it would be hilarious to host "The Hillbilly Olympics."
SO MUCH FOR LAUGHTER - NO ONE LAUGHS AT THE OLYMPICS: THAT SHIT IS SERIOUS.
Thou shalt not take the Olympic name in vain.


Bill Hybl
Well, here's a newsflash, Mr. Hybl: Though you apparently think yourself some kind of stud elite athlete, and like to pretend that the world revolves around *sports* I'm sure there's A LOT of folks who would disagree; take me, for instance: I don't give A DAMN about sports. I'd appreciate it if you'd STOP blowing all of that Noble Olympic smoke up our asses and pretending your organization something we should all revere and glorify.
I'm sure it's been A VERY LONG TIME, if ever, that Hybl (a) worked; (b) worked hard; or (c) earned money...so, he needs to QUIT SWINDLING THE PEOPLE OF THE CITY OF COLORADO SPRINGS OUT OF THEIR HARD-EARNED MONEY.
You know, folks...I've enjoyed this little question and answer session with myself...but I guess what it illustrates is that
NOTHING IS GOING TO CHANGE AS LONG AS I AM THE ONLY ONE ASKING THE QUESTIONS AND GETTING THE ANSWERS!!!!
LISTEN - WHEN I THINK ABOUT WHAT HAPPENED TO TED EASTBURN...AND WHAT HAPPENED TO BARBARA FREYSCHLAG...I *KNOW* THAT MY OWN DAYS ON THIS EARTH MIGHT VERY WELL BE ABBREVIATED ---
WHAT WILL YOU DO WHEN I'M GONE???
WILL YOU LEARN TO READ BETWEEN THE LINES FOR YOURSELVES?
The USOC is Thayer Tutt's and Bill Hybl's big, fat, poopie, bratty, spoiled baby, slamming his bottle and plate on his high chair tray, screaming to eat...only to fling his plate and its contents all over the walls and floors because "the spaghetti sauce tastes like tomatoes... I *HATE* TOMATOES!!!"
My tolerance for the USOC, its constantly changing "leadership", its corruption and scandals, THE DISTURBINGLY HIGH INCIDENCE OF STORIES AND REPORTS LINKING HIGH-RANKING USOC OFFICIALS TO CHILD PORNOGRAPHY, its nude-posing and shameless adult athletes, drug testing about which I AM SUSPICIOUS...ham-fisted demands for this building, and that sign, and this money and that and the other thing...FUCK IT.
A random sample montage of Olympians who have posed nude

FOLKS, THIS IS COLORADO SPRINGS, COLORADO; I REALLY DON'T CARE IF YOU LOVE OR HATE ITS POLITICS, I REALLY DON'T CARE IF YOU THINK WE'RE FORWARDS OR BACKWARDS...THIS MUCH IS TRUE:
THE PEOPLE LIVING HERE LIVE IN ONE OF THE MOST BEAUTIFUL MAJESTIC PLACES ON ALL OF PLANET EARTH!!!
If the USOC isn't happy with where they are and what they have now, THEN WE NEED TO TELL THEM TO KICK ROCKS!!!!! WHAT ON EARTH DO THEY HAVE TO BE DISSATISFIED ABOUT??? WHY AREN'T THEY HAPPY WITH ALL OF THE EVERYTHING THEY ALREADY HAVE!?!? FOR WHAT REASON SHOULD WE CONTINUE TO CAPITULATE TO THEIR OUTRAGEOUS AND UNNECESSARY FINANCIAL DEMANDS!?!
The USOC continues to act as though the people of Colorado Springs are one person...and that the USOC is one person. Mr. USOC invites Mr. Springs out to lunch....at the absolute fanciest place in town - say, the 5-star Broadmoor.
Ok...Mr. Springs doesn't have a job, has a grip of kids and wife unhappy with worry...and is having trouble putting food on the table for his own family; in the back of his mind, he's quietly hoping that lunch with Mr. USOC might lead to a job!

The two men sit down and enjoy a sumptuous meal, and wrapping things up with several apertifs. Time to pay the bill.
Mr. USOC looks at the bill...divides the final cost in half...and then divides it in half once more. Then, Mr. Moneybags USOC has the nerve to lay down half of the half...and then looks at Mr. Springs...WHO NEVER EVER DREAMED THEY'D BE GOING DUTCH FOR LUNCH...and says, "What are you waiting for? Didn't you eat? Didn't you enjoy the fabulous Broadmoor view? Didn't you get to spend time and be seen with me? Well, nothing is free, jack...you need to belly up, or I want that food back - PRONTO!!! Mr. Springs, dazed and confused by the events as they unfold, basically strips down to his underwear and hands everything he was wearing to Mr. USOC...before ambling off to the kitchen to wash lots and lots of dishes until his debt is paid off.
And Mr. USOC, in the mean time, drops a $6,000 tip on the table for the waiter, before kicking back and smoking his exclusive cash-cigars...made especially for Mr. USOC by poor hillbillies who can't even afford to host a track meet and a fish fry!!!
I don't know why I just told that story...but to be perfectly honest, it's the only moment in this post where I REALLY RANTED. In fact, I'm not even going to proofread it - that was strictly improv, y'all, hope it all reads and makes some sense.

So, what am I implying? This: that all along, back in the 1980's, the USOC financed Frank Aries, to help set up Banning Lewis Ranch...that Frank Aries may even still be on the USOC's payroll; that that I bet if you look close enough at the companies vying for ownership of Banning Lewis Ranch today - the real hard looker would probably find a connection to the USOC...and I wouldn't be at all surprised to learn that there's some kind of Broadmoor/Penrose/Tutt/Hybl connection to this "spinning off" Memorial Hospital to a non-profit CRAP.
The USOC has OODLES OF NOODLES, FOLKS... - LET
THEM
PAY FOR ALL THIS BALDERDASH.
AND IF THEY HAVE TROUBLE RAISING THE FUNDS TO SUSTAIN THEMSELVES, MAYBE
THEY
CAN GET A MATCHING GRANT FROM THE EL POMAR FOUNDATION.
GET READY FOR A WHOLE SLEW OF USOC POSTS, IN RAPID SUCCESSION.
FREE-FORM RANT ENDS NOW: TOTAL TIME ELAPSED 20 minutes.